Being a part of Hoover's history
On March 1, 2019, Principal, Mr. Jason Babineu and students from the Hoover Student Council were invited to sign the last beam that was put into place on the new theatre building.
During this special event, representatives from the construction company and the architect firm were invited to speak on the current progress.  Channel 10News was also there to capture the amazing moment. Students were extremely excited to sign the beam knowing that the new buildings will make their high school experience more exciting.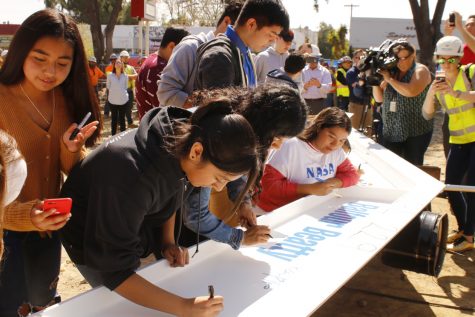 "It is a privilege and honor to be able to sign this beam as the representative for the ALMA academy," expressed junior Jose Lopez
"It felt empowering," added junior Vanessa Medina
According to Lee Dulgeroff, Chief Facilities Planning & Construction Officer, the contractor and project management are doing a fantastic job and the work is progressing very quickly and efficiently. He believes the students at Hoover are incredible and deserve better facilities. The purpose of this new building is to replace the A Bungalow portable classrooms with new modern state of the art classrooms that benefit the students' learning and experiences.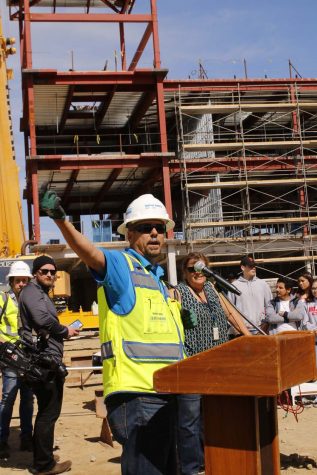 "I would like to thank all the students," said Dulgeroff.  "I know that it's hard difficult during construction. I want to thank you for your inspiration and I appreciate your patience and I'm looking forward to this building."
The theater is going to be another great benefit from this project and seats 500. Whereas the old theater was much smaller and had many dysfunctions. Plans for the front quad include improved areas that would be a great place for students to gather and enjoy their lunchtime. Overall this project is to improve the environment and give more pride to the school. The new building will really represent the amazing and incredible students at Hoover.
"I feel privilege since I am one out of many students to be chosen to be on the student advisory board and given this opportunity to leave our legacy as Hoover students" said  Junior Rosario Perez.
"I am grateful toward Mr. Babineau for allowing us to leave a part of ourselves at Hoover even we leave and are gone," added junior Andrea Paz.
According to Mark Schull, senior project manager from Balfour Beatty Construction, They had started out behind schedule and in the past month and a half actually made up that time. The delay was caused by unforeseen conditions. But now, the project itself is on schedule as the crew size has increased and became more efficient. This project is supposed to be done on June 20th of 2020.
"I like building schools because it adds to the campus and to the community, said Schull. "It helps the student with a great new learning environment, so to me, it means a lot. I think Hoover is a well-regarded school. They have a great principal, and the people that I have met here are fantastic. I believe like many people said today these two new buildings are going to change Hoover, student experiences and the community. I know that the theater is going to be open to community events. So it will bring part of the community into a state of the art, beautiful building."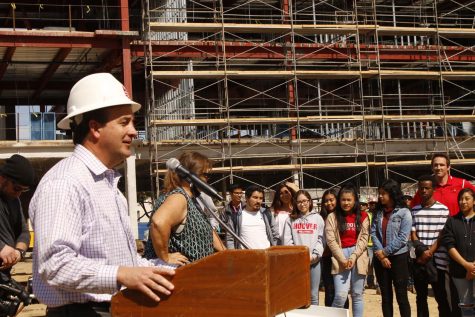 The perception of Hoover High School does not reflect the incredible young men and women we have stated Mr. Babineau.  He added the buildings will finally represent who the students are and what the Hoover community is.  It is his mission that, even before the new buildings, every parent, student, and child should be proud to be here, but also the fact that every child knows that when they step on this campus they would be loved, cared for and welcomed.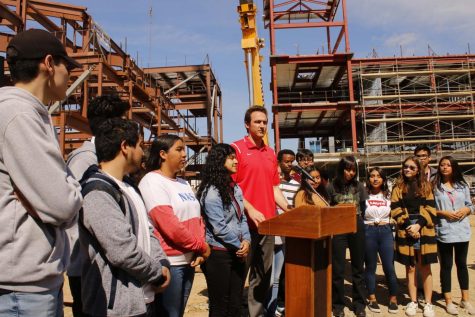 "The new construction is something that brings a great deal of joy to my heart," expressed Mr. Babineau.  "As the new buildings come, the bungalows are going to be gone and I want that. They don't represent students and the learning environment students should have."
After the signing, everyone was invited to lunch and eat with the construction crew.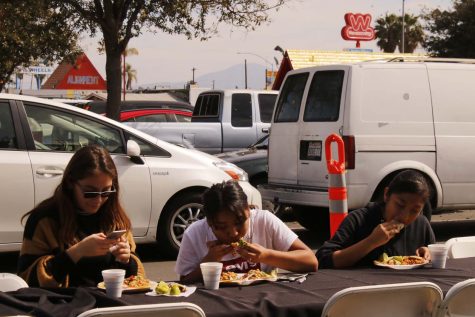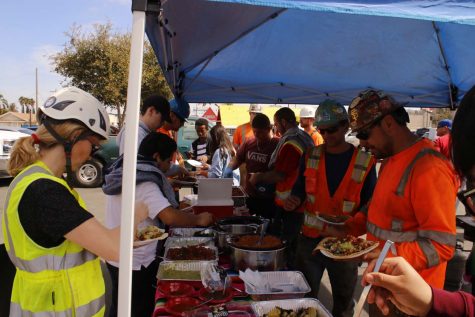 About the Contributors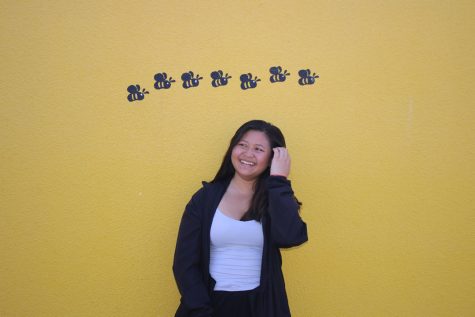 Rose Yem, Editor-in-Chief
Rose Yem is a 17 year old senior in the ALMA Academy at Hoover High School. She is a hard working and smart student. Rose loves food, sweets, boba, Starbucks,...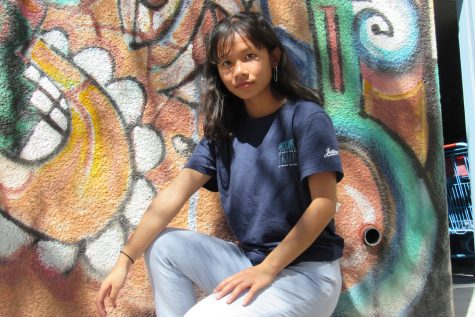 Chanmonita Loek, Associate Editor
I'm a junior at Hoover High School. I'm very active and like to play sports. When I'm not watching Korean, Chinese, Thai, or Japanese movies I'm...